Come back and fall in love with nature, Come back to where fitness, beauty and nutrition blends with nature, informality and relaxation to revitalize your body, your mind and your soul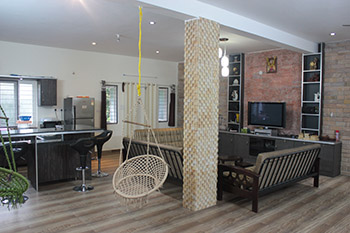 We offer you and your family, a picturesque 'Village-life' get-away, a tranquil ambience, and clean fresh air. It is an eco-friendly place of experiencing Village life in midst of lush greenery, away from city life of Bangalore, and yet not far from it. This beautiful homestay offers a unique opportunity to actively participate in rural life,
The perfect getaway to recharge your batteries. Relax while you pick and enjoy the different village experiences. With pure air, birdsong and endless views of grasslands and farms, the resort is perfect place to recharge yourself after a challenging week in the city, and reconnect with your loved ones over a delicious, healthy meal.
Highlights
Cleanliness of the farm and safety of visitors.
Located at scenic locations with magnificent views.
Village Tour
Drive to Muthathi Forest